Aspen Avionics introduces the Evolution Flight Display system, the most innovative — and affordable — glass cockpit system ever for certified general aviation aircraft.
Glass cockpits, long proven on commercial and business aircraft, bring added functionality and reduced pilot workload by consolidating primary flight data on easy-to-view electronic displays — reducing scan across multiple instruments. Yet they have remained beyond the reach of many general aviation pilots, available only in the newest aircraft or at enormous expense.
Now, Aspen Avionics' Evolution Flight Display system, based on the latest digital electronics and LCD technologies, allows you to quickly and easily upgrade the vertical pairs of instruments in your six-pack; from one to three pairs, all at once or one at a time, as your needs and budget require.
Not only is the system designed to work with whatever is currently in your panel — extending the life of your existing avionics — the Evolution system evolves with you via future software upgrades, maximizing your investment.
Modular Technology Makes It Easy
Aspen Avionics uses a stunningly innovative, patent pending approach to make this flexibility possible. The EFD1000 is a common hardware platform — a completely self-contained module including gyro, pitot and static sensors — that slides into the existing 3-inch instrument holes in your panel. Different versions of software turn an EFD1000 into a Primary Flight Display (PFD) or a Multi-Function Display (MFD).
Aspen offers a range of PFDs and MFDs to allow you to configure your system for your requirements. Remarkably, upgrading from one model of display to another is as easy as loading new software — so you can build on your original investment, and upgrade as your needs grow. No more tearing out the old to start anew.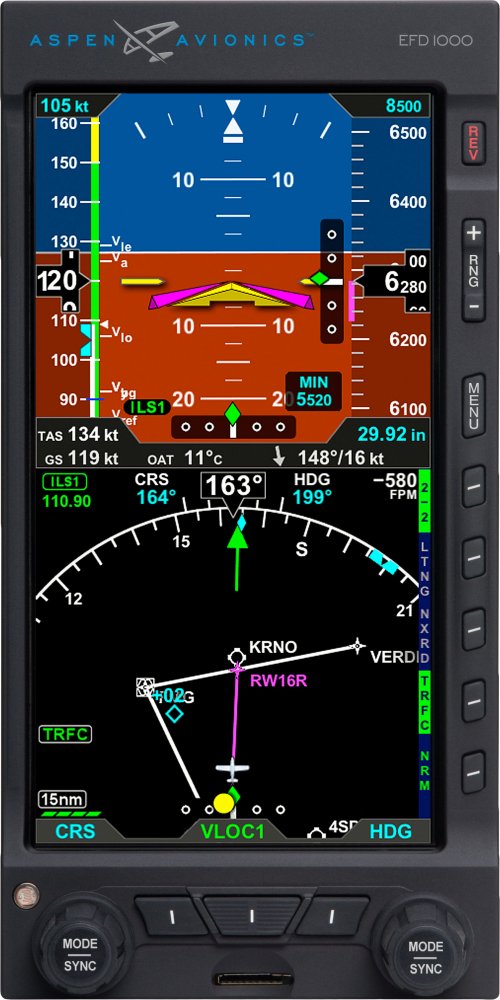 Redundancy and Safety are Built Right In
The Evolution system delivers a level of redundancy and safety previously unavailable in piston aircraft — at any price. In the unlikely event that your aircraft should ever lose electrical power, each display includes a built-in backup battery designed to keep your Evolution system running for at least 30 minutes, with an emergency GPS for continued situational awareness.
Plus, should you choose to expand your Evolution system with an MFD display, you'll be adding fully redundant ADAHRS sensors along with your second display. With the push of a button, your MFD can assume the duties of your PFD: no more struggling with partial-panel when your vacuum or electrical systems fail. And your backup instruments will be identical to — and right next to — your primaries, eliminating stressful searching for rarely-used analog gauges.
Easy to Afford, Easy to Install
Advances in electronics and display technologies enable Aspen Avionics to consolidate the functionality found in bulky remote boxes of older glass cockpit systems into a small, uniquely designed form factor. This highly integrated design brings you the same great features of existing glass cockpit systems at a fraction of the price. And, since the EFD1000 can be installed individually or as a multi-tube system, your transition from steam gauges to glass can happen in stages or all at once — it's up to you.
But hardware cost is just the beginning. What really counts is the installed cost. Currently available glass cockpit solutions require the installation of several large, remote boxes, heavy wiring from nose to tail, and often the rebuild of the entire instrument panel. Evolution's innovative and patent pending design allows display units to slide right into your panel's existing instrument cutouts and contain all its major sensors — so installation time and cost are cut at least in half.
Evolution Primary Flight Display Systems
Aspen Avionics offers three levels of PFD, to allow you to customize your glass cockpit to meet your requirements. The PFD can be easily upgraded with minimal downtime through simple software updates. The Evolution PFD delivers an integrated solid-state air data, attitude, heading reference system (ADAHRS), combined with advanced navigation, moving map and hazard awareness capabilities.
Evolution Multi - Function Display Systems
Aspen Avionics offers two MFD models, which can be used as part of a 2-tube or 3-tube system with your Evolution PFD. The EFD1000 MFD takes your cockpit to the next level, combining moving maps, hazard awareness and more with a duplicate set of air data, attitude and heading sensors. So, in the unlikely event your PFD should fail, the MFD can seamlessly revert to deliver all the basic capabilities of your PFD so you can safely conclude your flight.
Aspen Avionics also offers the EFD500 MFD, a lower-cost version that provides moving maps, hazard awareness displays, and flight plan information—without the added expense of an additional ADAHRS set.
Choose the solution that best suits your needs and your budget, with the confidence of knowing that it's an easy, affordable upgrade to move up to the next level any time you want.
EFD 1000 MFD
Add moving maps, datalink weather and traffic interfaces, a built-in terrain awareness database, flight information pages and more. Built using the same hardware as your PFD, this EFD1000 MFD gives you a full duplicate set of ADAHRS sensors, works with your PFD to continually monitor its health, and can automatically become a backup PFD if your primary should deteriorate or fail.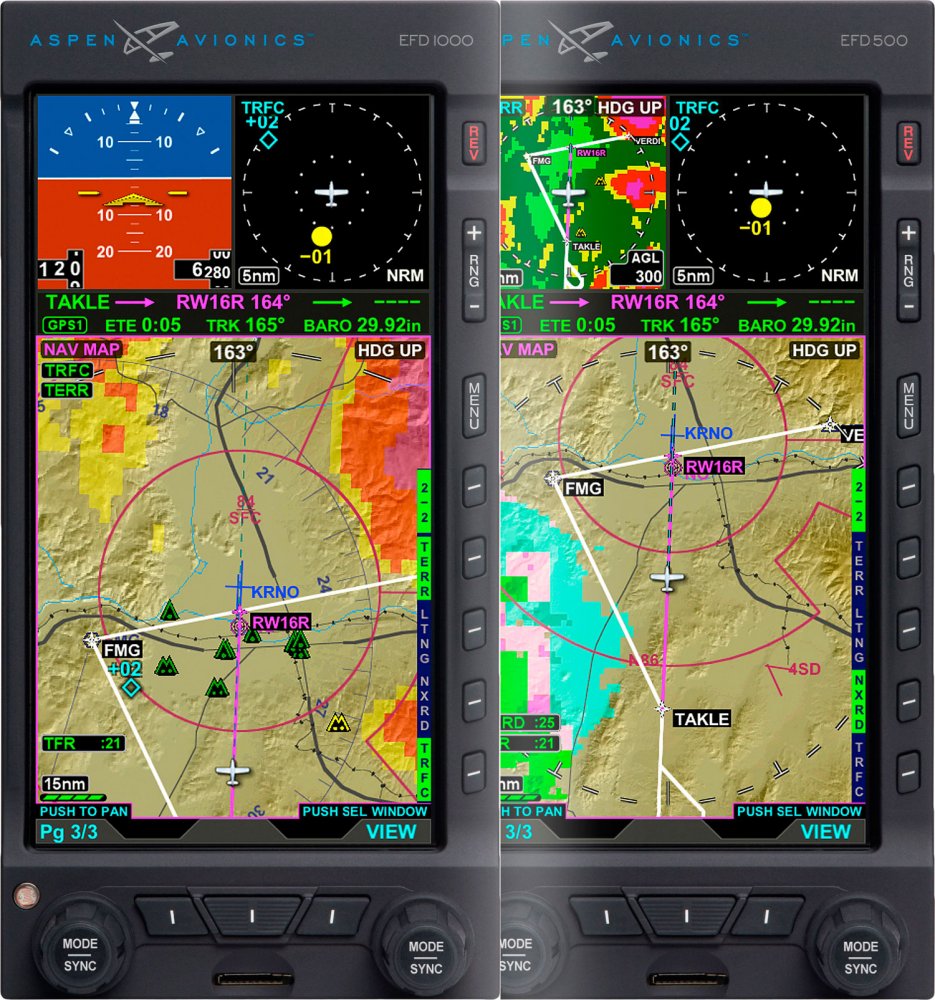 EFD 500 MFD
The EFD500 provides the same great MFD features as the EFD1000 MFD at a lower price, by eliminating the ADAHRS sensor set (and the ability to serve as a PFD backup). It is ideal as a third tube to round out your glass cockpit six-pack replacement, and can be installed as a slave display to your EFD1000 MFD to make installation a snap.
PFD/MFD Features
| | | | | | |
| --- | --- | --- | --- | --- | --- |
| | EFD1000 Pilot | EFD1000 Pro | EFD1000 ATP | EFD1000 MFD | EFD500 MFD |
| Integral ADAHRS, backup battery and emergency GPS | + | + | + | + | |
| Integral altitude alerter/pre-select | + | + | + | | |
| GPS flight plan map views: 360° & Arc | + | + | + | + | + |
| Slaved directional gyro with heading bug | + | | | | |
| Full EHSI with dual bearing pointers | | + | + | | |
| Dual GPS, dual VHF nav support | | + | + | | |
| Autopilot & flight director integration | | + | + | | |
| Integral GPS Steering | | + | + | | |
| Base map with curved flight paths | | + | + | | |
| Sectional-style map | | | + | + | + |
| Terrain, traffic, weather overlays | | Optional | + | + | + |
| Full-screen, 2-up, 3-up layouts | | | | + | + |
| Reversionary PFD (emergency use only) | | | | + | |
Specification
General Specifications:

Width

3.50 in. (measured at bezel)

Height

7.00 in. (measured at bezel)

Can Depth

4.11 in. (rear of bezel to rear of can)

Overall Depth

6.21 in. (knob to rear pressure pitting)

Weight

2.2 lbs

Display Type

6.0" Diagonal TFT Active Matrix L CD (400x760)

Display Colors

262,144

Face

Anti-Reflective Coated Glass

Backlight

High Intensity White LED

Rotary Knobs

Optical Encoder with Momentary Push

Dimming

Manual & Automatic (front bezel mounted sensor)

Operational Specifications:

Operating Temp

-20°C to +55°C

Storage Temp

-55°C to +85°C

Max Operating Altitude (Ambient)

35,000

Cooling

Integral Fan

Max Humidity

95% at 50°C

Input Voltage

+8 to +32 Volts DC

Max Current

3.5 Amps

Integration Specifications:

Navigation Sources:

Dual ARINC 429 GPS;
Dual RS-232 GPS;
Dual VHF navigation radios;
Radar altimeter Decision Height (DH) annunciation

Autopilot/Flight Director Support

Bendix/King: KAP 140/150;
KFC 150/200/225/250/300/325;
KCP 320;
Century: II/III/IV/41/2000;
Cessna ARC 400/800/1000 series;
S-TEC: 20/30/40/50/55/55X/60/60-2/65

Certification candidates:

Technical Standard Orders

TSO-C2d Airspeed Instruments;
TSO-C3d Turn and Slip Instrument;
TSO-C4c Bank and Pitch Instruments;
TSO-C6d Direction Instrument Magnetic (Gyroscopically Stabilized);
TSO-C8d Vertical Velocity Instrument (Rate-of-Climb);
TSO-C10c Altitude Pressure Activated Sensitive Type;
TSO-C106 Air Data Computer;
TSO–C113 Airborne Multipurpose

Software

RTCA DO-178B Level C

Environmental

RTCA DO-160E

Supplemental Type Certificate (STC)

Approved Model List (AML) for Over 800 Aircraft Models

MFD System, Internal Battery, International

MFD System, Internal Battery, International

Display, w/ Internal Battery

Autopilot Attitude Interface

Evolution Display, Legacy Trade-In

Display, w/ Internal Battery, Helicopter, Level B

Display, w/ Internal Battery, Helicopter

Altitude Preselect Interface Box, 28V

Altitude Preselect Interface Box, 14V

Helicopter PFD System, w/RSM Top Mount, w/GPS & ACU

PFD System, Internal Battery

PFD System, Internal Battery

PFD System, Internal Battery, International